wedding catering ideas for a budget-friendly celebration
Mar 14, 2023 155
Planning a wedding can be expensive, and catering is one of the largest expenses. However, there are many ways to have a budget-friendly wedding catering without sacrificing quality. Here are some wedding catering ideas that can help you save money:
Choose a simple menu

While selecting from a simple menu, there are a few things to keep in mind. You should start by considering your own tastes, such as the kind of food you enjoy eating and the type of meal you feel like having. You could want to consider concentrating on a certain cuisine or kind of dish, such Italian, Mexican, or Asian.
Opt for buffet-style catering

Compared to plated meals, buffet catering may be a more affordable choice. Additionally, it gives guests the freedom to decide how much and what they want to consume.
Have a daytime wedding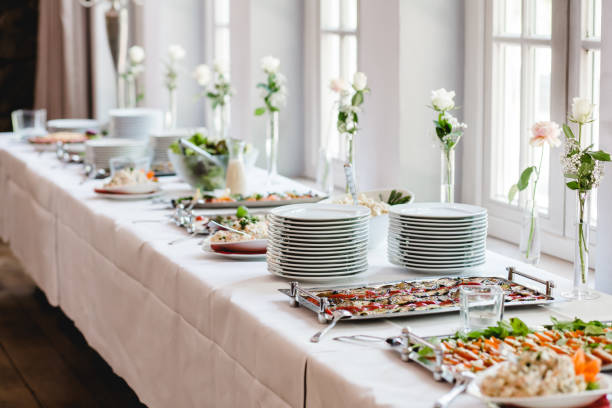 When it comes to wedding planning, one of the biggest expenses can be catering. A daytime wedding can be less expensive than an evening wedding for a few reasons. Daytime weddings are typically shorter events than evening weddings. This means that you will need less food and beverage service overall, which can save you money.
DIY catering

Self-catered events entail preparing and serving food without the assistance of a professional caterer. Those who wish to cut costs while giving their Event a personal touch may find this strategy to be an affordable choice. However, it needs meticulous planning and preparation, which includes meal planning, grocery shopping taking into account food safety, and asking friends and family for assistance.
Choose local and seasonal ingredients

Using local and seasonal ingredients can help save money on catering. Local produce and meat can be less expensive, and using seasonal ingredients means they are readily available and often less expensive.
Have a cash bar

In the case of a cash bar, attendees pay for their drinks separately as opposed to having them covered by the event's admission fee. Hence, guests will be responsible for covering the cost of their own beverages with cash a credit card or other forms of payment. Cash bars are usually employed when there is a limited budget or when the event Host does not want to cover the cost of the drinks.
Opt for a food truck

A food truck is a portable kitchen that may be placed somewhere and used to serve food. In recent years, food trucks have gained popularity and now a distinctive and cost-effective choice for wedding catering. A fun and distinctive addition for your wedding can be a food truck. Visitors will recall the experience of placing a food truck order, and it can foster a laid-back and informal ambiance.